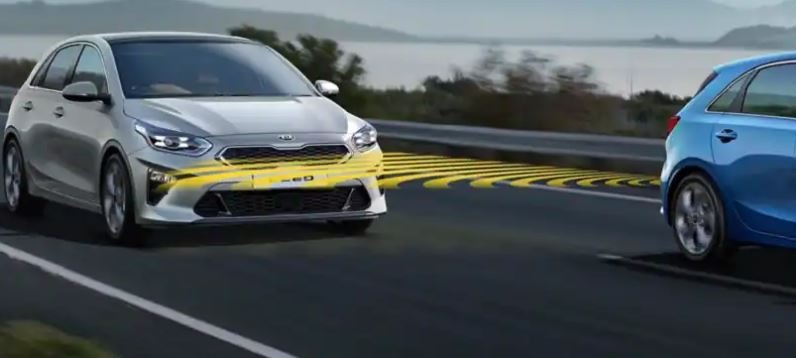 Kia Safety Features
When you purchase a brand-new Kia, you can take advantage of the safety features that are included in all new models as standard.
If you travel with children, having safety these safety features mean you have complete peace of mind every time you make a journey.
Lane Keep Assist
Using a camera mounted on the top of the windscreen, Lane Keep Assist monitors road markings and notices if you begin to drift between lanes. If this drift was unintentional, for example, you didn't have an indicator activated, the system will provide a warning so you can correct your steering.
This prevents accidents happening, either on motorways where you could sway into traffic overtaking you, or on single roads where you could sway into oncoming traffic.
Lane Following Assist
Utilising a combination of the front mounted camera and radar sensors, your car will monitor lane markings and the car in front.
This feature works in a similar way to cruise control, whereby the system will automatically control the acceleration, braking and steering to maintain a safe distance from the vehicle in front. If you are travelling in heavy traffic that is flowing, it means there is less chance of a collision during slowing and accelerating movements.
Forward Collision-Avoidance Assist
Again, using the front mounted camera and radar sensors, this feature monitors the traffic flow in front and if it detects a potential collision, a visual alert will warn the driver. If no action is taken, the car will brake automatically to avoid, or reduce the impact of a collision.
There is also an optional pedestrian option that detects pedestrians crossing the road. In the same way as this system works with vehicles, the brakes will also be applied if the vehicle gets too close to the pedestrians in the road.
Driver Attention Warning
If you regularly drive long distances, the Driver Attention Warning system monitors your driving as well as concentration levels.
The system will analyse how you use the steering, indicator and accelerator to determine when it is time to take a break. As your attention starts to falter, the system will provide you with alerts so you can take a break when it is safe to do so.
Blind Spot Collision Warning
When driving on motorways or dual carriageways, Blind Spot Collision Warning offers peace of mind that it is safe to switch lanes.
The system will give a warning if you start to move lanes or your indicator is applied and there is a vehicle in your blind spot.
This feature is designed to prevent collisions in fast moving traffic.
Speed Limit Information Function
Ideal for when you are driving in unfamiliar areas, the Speed Limit Information Function is designed to provide you with updates to speed limits or any new restrictions.
The information will be displayed on the navigation screen and cluster, so if you missed a sign, it will be available on your display until the next speed sign appears.
High Beam Assist
When driving on country roads at night, it can get difficult to control the high beams, whilst keeping your eyes firmly on the road. Having to switch from full beam to low beam when an oncoming car comes into view can mean you take your attention off the road, even just for a few seconds.
With High Beam Assist, the system will control your high beams when a vehicle is detected in the opposite direction.
Rear Cross Traffic Collision Warning
When reversing out of a space in a car park, it can be difficult to have your attention on what is going on around you, especially as things can change at the last minute.
Rear Cross Traffic Collision Warning will alert the driver if any traffic is heading into your path so you can prevent low speed collisions.
With this wide range of safety features, buying a Kia makes sense, especially if you are travelling with young children.
It offers complete peace of mind that your Kia is designed to protect you.
You can request a test drive with Fine Cars, your local Hyundai dealer to test out the safety features.
Latest News
13-04-2022
The SsangYong Tivoli is a spacious SUV that is designed so the whole family can…
Read more >
30-03-2022
The SsangYong Korando is a refined SUV designed for those who want to travel in…
Read more >
09-03-2022
Seven-seater cars are a great option for larger families who want to travel…
Read more >