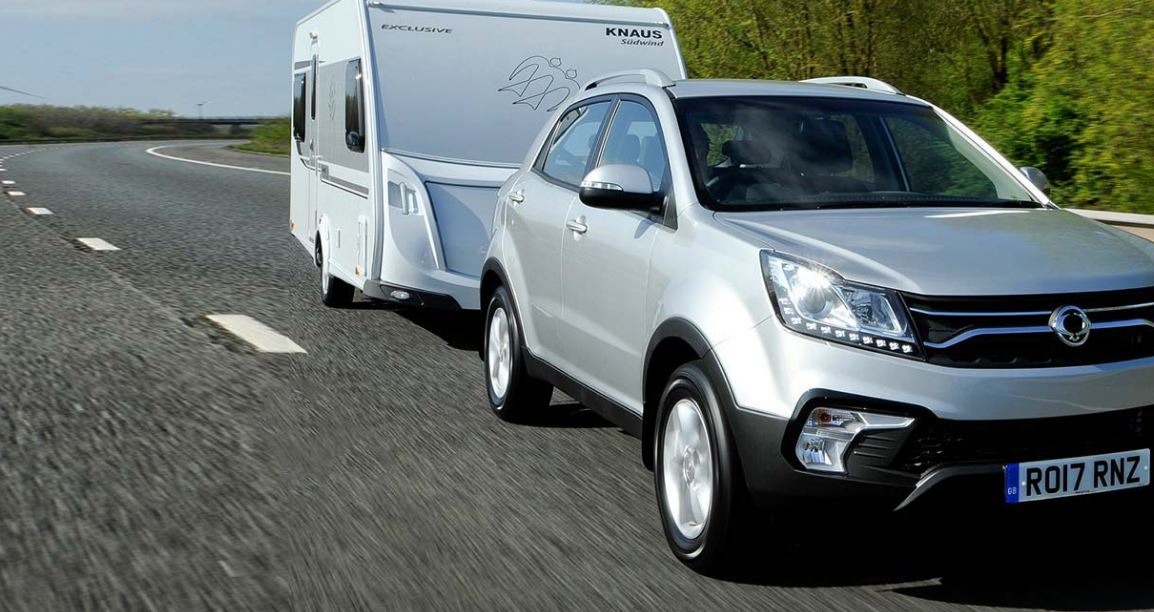 SsangYong Towing Capacity Comparison
If you regularly take staycations, or travel away for the weekend, having an SUV makes complete sense. There's much more space inside the cabin area to accommodate multiple adults and the boot size is sufficient enough to hold luggage and hobby equipment.
SUVs are certainly not what they used to be, and that's a good thing. Gone are the days when SUVs are bulky, boxy, and not particularly enjoyable to drive as well as lacking any style.
Most manufacturers now have their own range of SUVs as requirements have changed. As more and more SUVs enter the market, manufacturers seem keen to create stylish and sleek models that appeal to everyone.
Whilst SUVs are likely to cost more upfront, there are low-cost options available to keep your monthly costs down such as electric or hybrid models. Electric and hybrid SUVs are best suited to built-up areas where you are likely to achieve zero emission driving during these shorter journeys.
SsangYong models are popular for those who also regularly head out on weekend adventures, partly due to their rugged stance and wide range of safety features which are included as standard.
Towing a caravan in the UK
Apart from the towing capacity of a vehicle, there are other rules and regulations to adhere to when towing a caravan. As of 2021, anyone with a license that was issued from 1st January 1997, you are permitted to tow up to 3,500kg.
It's recommended you run some performance checks on your license and vehicle before attempting to tow a caravan:
Make sure you have the correct permissions on your driving license
Ensure the caravan is suitable for use on the road
Ensure the caravan is safely coupled to the vehicle
Ensure visibility is clear, adding additional wing mirrors as needed
So, let's see how the SsangYong range stacks up when it comes to towing a caravan.
SsangYong Tivoli
The SsangYong Tivoli is known as the largest small SUV in the range and fits seamlessly into both city environments and rural areas.
Inside, you've got a stylish space for both driver and their passengers, designed to offer a comfortable journey each and every time. For those who are making longer journeys, the heated seats make being out on the road an enjoyable experience.
When you head out on a staycation, there's a wide range of infotainment features as standard, including
SsangYong Korando
The SsangYong Korando comes in multiple engine sizes and fuel types to suit your requirements. When choosing your Korando, the level of pulling power will depend on the engine size, so if you are going to be pulling a caravan, you might want to opt for a larger engine size.
Offering seven seats to accommodate the whole family, the SsangYong Korando is built to get out of the city and explore rural places. Having a seven-seater SUV can be much more economical than having two standard sized cars to accommodate larger families.
The Korando offers 240 litres of luggage space as standard, reaching 1,806 litres with the rear seats folded down, so you can pack away your bags in the boot space rather than them taking up the cabin space.
SsangYong Rexton
Also available as a seven-seater SUV, the SsangYong Rexton is designed for weekend adventures, allowing multiple adults to travel comfortably, all in one vehicle. With plenty of comfort features such as heated seats, adjustable headrests, ventilated front seats and faux leather seat upholstery, the driver and their passengers can arrive at their destination refreshed and relaxed.
To keep everyone entertained, there's an 8" smart audio screen with rear-view camera, a 9.2" HD screen, TomTom navigation, Apple CarPlay, Android Auto and six speakers, so you can enjoy your own music and entertainment during your trip.
SsangYong Towing Capacity Comparison
These towing limits are the maximum weight of caravan the vehicle can tow. Torque is also an important factor when it comes to choosing a vehicle that can tow a caravan, as torque refers to the pulling power of the vehicle. Having higher pulling power can help you get going quicker, which is more beneficial when you have a caravan to tow.
| | | |
| --- | --- | --- |
| Model | Towing Capacity | Torque (pulling power) Nm |
| SsangYong Tivoli | 1,500kg | 1.2L Petrol – 230Nm |
| | | 1.5L Petrol (Manual) – 280Nm |
| | | 1.5L Petrol (Auto) – 260Nm |
| | | 1.6L Diesel (Manual) – 300Nm |
| | | 1.6L Diesel (Auto) – 324Nm |
| SsangYong Korando | 2,000kg | 1.5L Petrol (Manual) – 280Nm |
| | | 1.5L Petrol (Auto) – 280Nm |
| | | 1.6L Diesel (Auto) – 324Nm |
| | | 1.6L Diesel (4WD) – 324Nm |
| SsangYong Rexton | 3,500kg | 2.2 Ventura (Auto) – 441Nm |
| | | 2.2 Ultimate (Auto) – 441Nm |
| SsangYong Musso | 3,500kg | 420Nm |
If you are looking for a brand-new SUV or pickup that makes light work of towing a caravan, let Fine Cars help. We are located in Gosport, Hampshire, so pop down to our dealership, or give us a call to discuss your needs.
Latest News
13-04-2022
The SsangYong Tivoli is a spacious SUV that is designed so the whole family can…
Read more >
30-03-2022
The SsangYong Korando is a refined SUV designed for those who want to travel in…
Read more >
09-03-2022
Seven-seater cars are a great option for larger families who want to travel…
Read more >